Leader Pelosi, Sen. Warren, Members of Congress Tell GOP "Hands Off Social Security and Medicare"
WATCH VIDEO OF THE EVENT:
https://www.youtube.com/watch?v=7DaFlKxTUQo

#HandsOff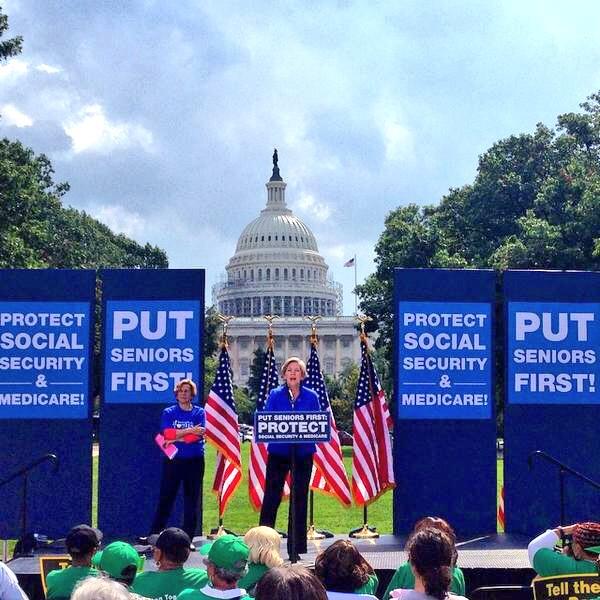 Washington, DC – With Social Security and Medicare under renewed threat from Tea Party extremists in Congress, House Democratic Leader Nancy Pelosi, Senator Elizabeth Warren, Congressman Bruce Braley, AFT President Randi Weingarten, other members of Congress, the Koch Sisters, hundreds of seniors from across the country, advocates for seniors and other concerned Americans spoke at an event earlier today in Washington, DC where they told the GOP once and for all: "HANDS OFF Social Security and Medicare – We Earned It!".
To watch video of the event, please visit: https://www.youtube.com/watch?v=7DaFlKxTUQo.

Before the event, seniors from Arkansas, Louisiana, Kentucky, Georgia, and North Carolina visited Member offices to call on them to sign The Golden Promise: A Pledge to Put Seniors First by Protecting Social Security and Medicare from Benefit Cuts, Privatization and Vouchers. These guaranteed benefits earned through hard work have been credited with lifting generations of seniors, survivors, and disabled Americans out of poverty. They are a promise kept from one generation to the next, but right wing ideologues in Congress want to break that promise on behalf of the Koch brothers, Wall Street bankers, and the big insurance companies that back their campaigns.
Four years in a row House Republicans passed budget plans crafted by Paul Ryan that would end Medicare as we know it and replace it with a system of private vouchers that won't keep pace with the cost of health care and would force seniors to pay thousands of dollars more for their care. The Ryan plan also fast tracks cuts to Social Security by requiring that in any year that the Social Security Trust Fund does not meet 75-year solvency that the President must then draw up legislation to change the program. This is nothing but a back door means for the Tea Party to revive their risky scheme to privatize Social Security and allow guaranteed benefits to be gambled away on Wall Street – a scheme that would have wiped out many seniors' savings during the financial crisis of 2008.

In response, advocates for strengthening - not privatizing - Social Security and Medicare called on the GOP to start putting seniors before the special interests. The event kicked off We Earned It, a national campaign to stop Republicans from gutting the promise of affordable healthcare, Medicare and Social Security. Learn more online at www.WeEarnedIt.org and follow along on Facebook and Twitter.
###